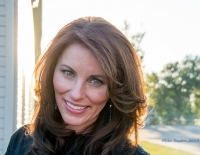 Aricka J
Name: Aricka

Birthday: 2/13

Hometown: Westland, MI

SHORT life story: I grew up in Southeast Michigan and did many different jobs until I decided to attend Specs Howard School of Media, in Southfield. I loved everthing to do with radio from day one! After graduation I worked in Toledo, OH part time and back to Michigan shortly after to work fulltime for WBTI in Port Huron and than Rockford, IL for a short while. I landed my job here in South Bend and it feels like home! I have a toy poodle mix I adopted, her name is Clair and we live with a wonderful guy named Jeremy.

First exciting radio gig? I had a blast getting my feet wet in radio working for WBTI in Port Huron. It was a great starting point in a beautiful town. I am looking forward to having just as much fun here in South Bend.

Hobbies? Watching comedies, playing disc golf, playing with my puppy, drinking and working out.

Guilty pleasure music? Anything from the 80's

Secret passion: Nothing is a secret! Big open book here!

Secret fantasy? I wish I could sing and dance and get paid for it.

Name the one gadget you can't live without? Cell phone

Favorite sports teams? Detroit Pistons! (even when they suck)

Favorite food? Taco's! (chicken)

Favorite city in the world? Detroit!

Favorite TV show? The Big Bang Theory

Best movie you ever rented? Sweetest Thing

Read any good books lately? An old time radio book called "Of Mics and Men"

Best concert you've ever seen: Toss up between Green Day and No Doubt / Paramore

Pets? My Toy poodle mix, Clair (bear)

Favorite word or phrase? Awesome!

Favorite drink? Alcohol-wise: Blush wine or beer non-alcoholic: Ice tea

Favorite ice cream? Chocolate- chocolate chip :)

Which store would you choose to max out your credit card? Kohl's

Biggest pet peeve? People who don't drive the speed limit

What would you do if you were mayor of South Bend for a day? I would grant wishes for those who cannot do things they would like to do on their own!

On-Air Schedule
Monday
07:00pm - 11:59pm
Today's Best Music
Tuesday
07:00pm - 12:00am
Today's Best Music
Wednesday
07:00pm - 12:00am
Today's Best Music
Thursday
07:00pm - 12:00am
Today's Best Music
Friday
07:00pm - 12:00am
Today's Best Music