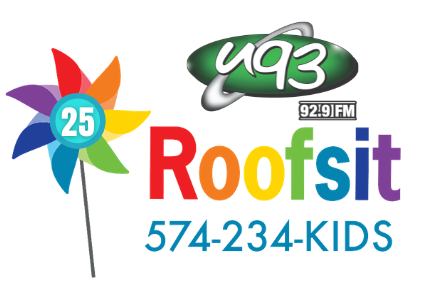 Roofsit began in 1996 when two DJs here at U93 wanted to help victims of abuse. The DJs spent a week on a local business rooftop, day and night (eating, sleeping, working and even using the bathroom!). They stayed on-air, sharing letters, emails, phone calls and personal interviews with survivors of abuse, often breaking down in tears over the pain the surviviors had endured. Donations poured in to help educate the community and provide counseling services for vicitms and survivors. To date, over $1.5 million has been raised to assist abuse survivors and educate the public on how to stop the cycle of violence. All of the money raised is granted to agencies in the U93 listening area.
Each year U93, WNDV-FM donates an entire week of on air time to help educate the community and raise donations for educational and preventive programs in the Michiana area. u93 DJs will broadcast live from Martin's Supermarket at Heritage Square in Granger for the entire week.

The week is filled with real people affected by child abuse and neglect, and some of the counselors, nurses, doctors, lawyers and agencies that help to educate and battle this dire tragedy in our community. Along with on-site donations and local business contributions, there are many special events to raise money during the week.

Questions about Roofsit?
Want to get involved?
Contact: Christina McGovern