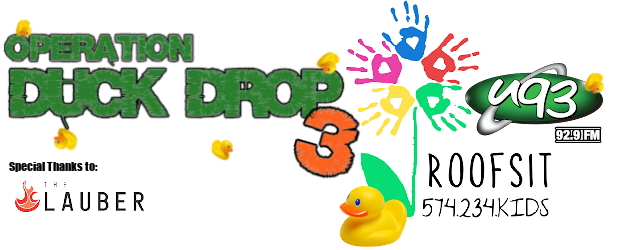 Join us on the East Race Waterway in Downtown South Bend,
we're going to drop over ONE THOUSAND rubber ducks into the river!

The first 93 ducks collected win!
There will be 93 different prizes; one for each winning duck.
Including a $200 CASH PRIZE!
*You do not need to be present to win
After the duck drop head over to the Lauber for an afternoon of live music, raffles,
food and drink specials and a ton of fun! All to benefit RoofSit 2023!
Each duck will be assigned a number. The numbers will then be assigned by order of purchase. A list showing the corresponding numbers will be updated at regular intervals and available HERE.
Once the first 93 ducks have been recieved from the East Race, the winning numbers will be announced on site. The winners will then be able to pick their prize at random at the Lauber immediately following the Duck Drop.
If a winner is not present they will receive a random prize drawn from the remaining unclaimed prizes that can be picked during normal business hours.