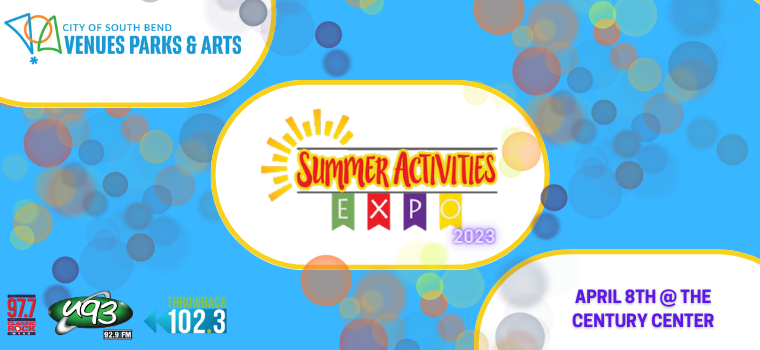 Join U93 for the- FREE Summer Activities Expo at the Century Center on Saturday, April 8th from 10am until 3pm.
Make the Summer Activities Expo your first stop on the road to a perfect summer for you and your family. Make sure the kids stay busy and have fun this summer by checking out multiple organizations from all over Michiana. They'll be demonstrating tons of amazing opportunities available in our community this summer.
In attendance will be...
SOUTH BEND VENUES PARKS & ARTS
ST. JOE COUNTY 4-H FAIR
WELLFIELD BOTANICAL GARDENS
YMCA OF GREATER MICHIANA
STAR MARTIAL ARTS
GENTLEMEN & SCHOLARS
CAMP ALEXANDER MACK
ST. MARY'S COLLEGE
SYLVAN
SPIN ZONE CYCLING
BOY SCOUTS
THE RIDING STABLE
HONG'S TAEKWONDO
GOSHEN PARKS AND REC
FOUNDATIONS CHILD CARE
ST. JOSEPH DEPARTMENT OF HEALTH
WOLFSHEAD PRODUCTIONS - NILES RENAISSANCE FAIRE
KROC CENTER
DINK'S TRIBE
PLAY LIKE A CHAMPION
LIFE FOR CHRIST MINISTRIES
FIVE PINES MINISTRIES
SOUTH BEND MUSEUM OF ART
RC FUN PARK
THE JEWISH FEDERATION